This year I'm participating in my first ever ornament swap. And I chose a really fun one!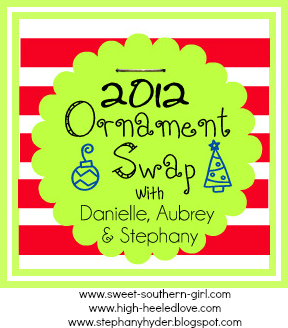 This one takes the idea of the tacky/ugly Christmas Sweater party and brings it to the blogosphere. We were partnered up with another participant, and were instructed to:
Make a tacky ornament
Buy a meaningful ornament
Throw in some stocking stuffers
I had so much fun making my tacky ornament. It's goofy and funny, tacky yet not ugly. My husband even thought it was "kinda cute".
Everything is ready to ship out today – here is a little teaser of what my partner will be getting…
…but you'll have to check back later in the week Click here to see the big reveal! (Can't risk her seeing pictures before she gets her package!)