Last week I shared with you that I'm participating in my first ever ornament swap. This was hosted and coordinated by three really fun blogs.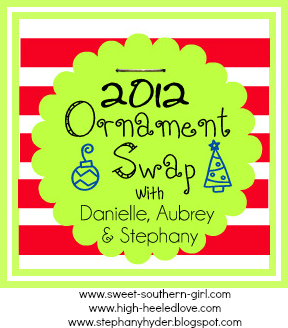 You saw this teaser photo of my package of goodies for my swap partner:
And now that I know her package has arrived, it's time to reveal what's inside!
Let me start off by recapping the rules of the swap:
Make a tacky ornament
Buy a meaningful ornament
Throw in some stocking stuffers
This really was in the spirit of taking the tacky/ugly Christmas Sweater party and bringing it online. And when I started to think about what makes a Christmas Sweater tacky, I realized that to me, it was because there was SO MUCH going on! It's like the sweater had to be loud and busy and colorful to get your attention. So that is exactly what I set out to do with my ornament.
I wanted to incorporate a variety of different embellishments. Here are the supplies I gathered (I ended up not using the glitter paint):
And here is what I created:
I had to set it on a roll of tape to keep it upright to grab some pictures – it's HEAVY! LOL The little jingle bells are threaded on the blue tinsel thread, and got lost inside…but they're in there!
There's even a little foam sticker on the bottom (and you can sort of see some of the jingle bells in there!):
What do you think?
My swap partner and I also exchanged emails to get to know each other a little bit, so that we could complete the rest of the challenge with something sort of personal. Here are some things I learned about her:
She hates coffee (good thing I discovered that before including a Starbucks gift card!)
Her favorite colors are silver and turquoise/aqua
She loves nail polish
So I rounded out her package with the following fun things:
Think she'll like them?
And I'm sure by now you're also wondering what I got back from my swap partner? Can't leave you guessing – so here it is!
I definitely had a lot of fun – and maybe next year I'll even host an ornament swap party myself right here on this blog! Would you be interested? Did you participate in any swaps this year? Leave a comment and let me know!
Want to see more tacky ornaments? They are being revealed and linked up here.