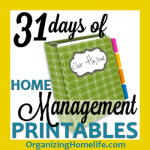 I love all things organization. Containers, nooks and crannies, secret compartments in my car, tools of any kind. I haven't really thought of a Home Management binder though…until Organizing Homelife started her 31 Days of Home Management Binder Printables. A binder to organize your life? And pretty pages to help you do it? Yes, please!
I have to admit I have not printed these out yet – not because I haven't been drooling over them, but because I know I'm going to need a block of time to use them, mess them up and re-print them again.
But I love the idea of this so I wanted to share.
Do you have a Home Management Binder? What kind of information do you think is worthwhile to keep in a single place like this?