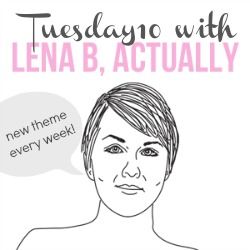 I've discovered linkies, link-up parties, blog hops…whatever you want to call them, it's a place where a blog post invites other bloggers to post a link to a related article. I'm addicted. It's sad. But I've found some really fun and creative blogs through these parties.
I just came across this one to link up 10 things. This week's topic is 10 Random Facts About Me. Since my blog is so new, I figured I'd jump in and participate and give you a chance to get to know me better. So, here we go!
My husband and I have moved 11 times in the 13 years we've known each other. That encompasses 7 cities across 4 states. (Yes, we should have bought stock in cardboard a LONG time ago, or purchased plastic/rubber moving containers. It wasn't until this last move that I even broke down and let the movers pack us.)
I'm the proud momma of 2 furbabies (cats). But I never had cats before I met my husband. I was seriously TERRIFIED that the cat was going to attack me and my husband would come home to find me locked in the bathroom.
I know the lyrics to a lot of songs, but sadly hardly ever know the artist. Bad, I know. Poor artists…they deserve for me to know who they are.
My sister and I used to make up routines on roller skates in our basement. We rocked!
I don't watch scary movies. I don't even like watching scary movie previews at the theater! The one time I watched scary movies was at a slumber party (we watched Nightmare on Elm Street and Sleepaway Camp). I hated every second, spent most of the time with my head under the blanket, and still get the shivers when I think about it.
Fall is my favorite time of year. It used to be a tie between Fall and Spring (duh) but after moving to Texas, it's a celebration of the end of the 6 months of summer.
I spent most of my Paris honeymoon sick due to jet lag, and ended up begging my travel agent to get us home early. We spent the rest of our honeymoon at a resort in Monterey, CA. We laugh about it now, but you try watching CNN and snooker on TV for 23 hours straight because you can't sleep and it's the only thing on in the middle of the night in English and see if you don't beg your travel agent to get you home too.
I love to read (49 books so far this year!) but my recent interest in crafting is severely hampering my reading progress. I just can't get in to audiobooks (boo!) so I have to find a way to balance both.
I often wake up with a song in my head. Usually old school, and I never can figure out WHY a particular song is in my head. I think I am tuned in to some cosmic radio.
We killed our cable when we moved earlier this year. All "dry runs" before that failed miserably so I wasn't sure we could do it. I watch nearly as much TV now as before (thank you Internet) but it's more conscious. Love the quieter house. No TV on in the background just because.
Well…that's a wrap!